GODORT (Government Documents Round Table)
RoundTable
Closed group
by Starr Hoffman on Tue, Dec 17, 2013 at 02:48 pm
Come work with me at Columbia! I'm the Journalism Librarian, working with the Social Sciences Libraries Division, and love it. My work heavily involves documents, so I'm looking forward to whoever takes this position! (Please forgive cross-postings.)
Government Information Librarian
Columbia University Libraries/Information Services
The Columbia University Libraries invites nominations and applications for the position of Government Information Librarian. The Libraries seek an energetic, knowledgeable and technologically adept professional to support research, instruction and training, and active outreach for faculty and students in support of federal, state, local, foreign, and international government information, and social sciences resources, including data sources. The position oversees the Libraries' federal depository collection in all formats; maintains and updates item selection; liaises with GPO; updates MARCIVE records profile; and evaluates, selects, and recommends databases for purchase in the areas of government information and international affairs. The incumbent will develop and maintain government information services webpages, the Lehman Library blog, and other social media for communicating programs and services to the schools and departments directly served by the Lehman Social Science Library and the University community at large. The Government Information Librarian will engage technologies emerging as critical to research and teaching, including those supporting data-intensive research. The position will collaborate with colleagues from across the Columbia University Libraries, including the Digital Social Science Center, the Center for Digital Research and Scholarship, and the Center for New Media Teaching and Learning to support the evolution and enhancement of innovative library services and technology initiatives. This position will report to the Director of the Social Sciences Libraries Division.
The successful candidate will have:
• An accredited MLS or an advanced degree in the social sciences or equivalent combination of education and experience
• Demonstrated public service orientation and knowledge of user needs for teaching, learning, and research
• Demonstrated experience with US federal government documents, social sciences and international relations resources, including data sources
• Ability to work independently with varied user groups in a complex organization and function collaboratively in a rapidly changing team environment
• Excellent analytical, organizational, oral and written communications, and interpersonal skills
• Experience in webpage creation, and demonstrated ability to communicate/publish for the web/social media
• Demonstrated experience working with statistical datasets and the ability to effectively communicate with faculty, students and staff about textural, numerical and spatial data resources
• Demonstrated experience using quantitative research tools such as ArcGIS, Stata or R
Also highly desirable:
• Knowledgeable in the issues surrounding scholarly communications and data management planning
• Demonstrated experience using qualitative research tools such as NVivio or Atlas.ti
• Demonstrated experience using coding tools such as Javascript or Python
• Experience in identifying and evaluating software applications
Submit your application on-line at: http://academicjobs.columbia.edu/applicants/Central?quickFind=58604
One of the world's leading research universities, Columbia provides outstanding opportunities to work and grow in a unique intellectual community. Set in the Morningside Heights academic village, Columbia also presents the unmatched dynamism, diversity and cultural richness of New York City. The University Libraries, grounded in collections of remarkable depth and breadth, are also building extensive electronic resources and services. The Libraries at Columbia are committed to collegiality, professionalism, innovation and leadership.
We offer a salary commensurate with qualifications and excellent benefits.
More...
by Sarah Erekson on Thu, Dec 12, 2013 at 08:05 pm
Learn something new in Philadelphia. Get a GODORT Buddy for Midwinter Meeting 2014 in Philadelphia!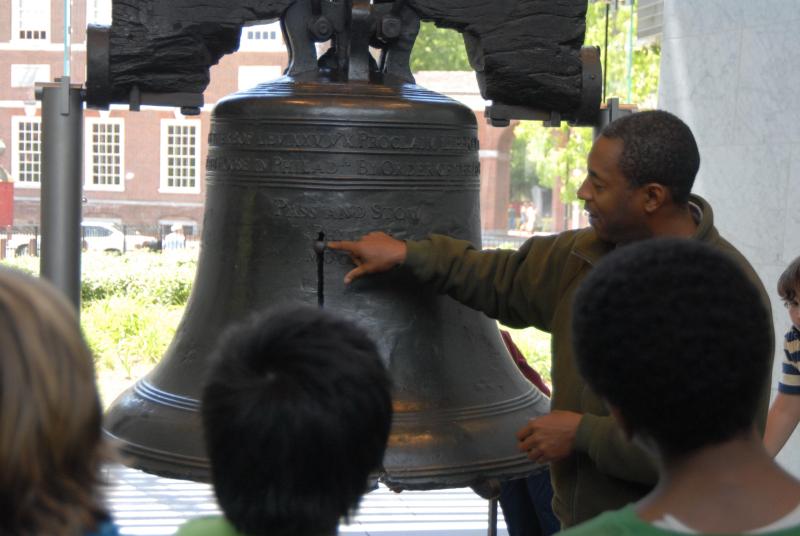 Photo Credit: National Park Service, Independence National Historical Park
Interested in government information librarianship? Want to know more about what we do in GODORT? Get a Buddy! Sign up now!
The GODORT Buddy program was created to provide a personal introduction to the Government Documents Round Table. New and prospective GODORT members, as well as members becoming active for the first time or after a long absence are encouraged to request a GODORT Buddy.
Share your knowledge and be a welcoming face for GODORT. Learn more about being a buddy; see the description on the Membership Committee wiki.
Other Details:
The Buddy pairing is for just one conference, so requires a low level of commitment, but means you'll have an active GODORT member to answer all your questions and introduce you to other members at the GODORT Happy Hour & other events. You'll also receive a packet of information and GODORT goodies at the Happy Hour!
Sign up deadline: Friday January 17, 2014
Buddy pairing notification: Tuesday, January 21, 2014
Questions?? Please don't hesitate to contact me, Sarah Erekson, Membership Committee Chair
More...
by Sinai Wood on Thu, Dec 12, 2013 at 03:14 pm
-------------------------------------------
TRAIL Information and Update Session
Sunday, January 26, 2014
3:00 pm – 4:00 pm
Pennsylvania Convention Center Room 303 AB
Meeting Details: This is an open meeting for TRAIL members, prospective members, or anyone else who wishes to learn more about current activities and future plans of the Technical Report Archive and Image Library (TRAIL). 
TRAIL is an initiative to identify, digitize, archive, and provide persistent open access to federal technical reports issued primarily prior to 1975.
More...
by Kathryn Bayer on Fri, Nov 15, 2013 at 04:44 pm
Are you looking for new ideas for government information research guides? Do you have questions about how to manage an FDLP collection? Do you want to share a great handout or tutorial that you created with other librarians?  The GODORT Exchange is in development and with your contributions we can provide high quality centralized access to SpringShare LibGuides, tutorials, collection development policies, continuing education resources, and more.
Please check out the newly updated GODORT Exchange wiki page (http://wikis.ala.org/godort/index.php/Exchange) and see how easy it is to add information. You can click on the "Share your content for browsing" link to find help with uploading information to the Exchange. Based on the successful past experience of the Government Information Clearinghouse and Handout Exchange, sharing content allows you to save time and spark new ideas. Help your colleagues by contributing to the GODORT Exchange and enhance your knowledge by visiting the Exchange!
This message was cross posted to GOVDOC-L and DocTech-L.  Please excuse any duplication.
More...
by Cassandra Hartnett on Wed, Nov 13, 2013 at 12:00 pm
Interested in Depository Library Council?
The Depository Library Council is an advisory board to the Public Printer of the United States. Are you interested in being considered for possible nomination or do you wish to nominate someone for consideration? If so, please fill out the online application form at http://www.ala.org/godort/godort-depository-library-council-nomination-form before December 1, 2013. Please note, resumes cannot be substituted for the application form. The GODORT Steering committee will select up to five names prior to the Midwinter Meeting. Names of the selected nominees will be forwarded to the ALA Executive Board for their consideration and submission to the Public Printer. Please contact a member of the GODORT Nominating Committee with any questions.
Best,
Cass Hartnett, cass@uw.edu
Chair, GODORT Nominating Committee
Committee Members: http://wikis.ala.org/godort/index.php/2013-14_Directory#Nominating_Committee
More...
by Sinai Wood on Fri, Jul 19, 2013 at 12:53 pm
The Technical Report Archive and Image Library (TRAIL) has a new email list, TRAILtalk.  Please subscribe!
TRAILtalk is intended as an information exchange about all things TRAIL. 
Information intended specifically for TRAIL member institutions will not be disseminated via TRAILtalk - other mechanisms are already in place for communicating with members.
Who should subscribe?
Anyone (whether at a TRAIL member institution or not) who wants to be part of an information exchange about all things TRAIL.
Anyone who wants to ask questions about the information TRAIL is sending out or about any other TRAIL-related topics.  A number of TRAIL Steering Committee members will be subscribed to TRAILtalk and will respond to questions in their areas of expertise.
How to subscribe:
Send Judy Alspach (jalspach@crl.edu) your name, institutional affiliation, and email address.
Put TRAILtalk in the subject line of your email.
TRAILtalk Guidelines
Any subscriber can post, but postings should have some obvious connection to TRAIL or related to technical reports.
Subscribers posting off-topic content, including advertising for non-TRAIL related activity, spam, etc., will be unsubscribed from the list.
Thank you and we look forward to future discussions with everyone on TRAILtalk!
More...
Pages