Union Library Workers
Community
by Kathleen McCook on Sun, Oct 30, 2011 at 07:34 am
UN Rio+20 Summit Must Deliver on Jobs, Poverty and the
Environment.
International Trade Union Confederation
UN Rio+20 Summit Must Deliver on Jobs, Poverty and the
Environment
ITUC OnLine
October 28, 2011
http://www.ituc-csi.org/rio-20-trade-unions-submit-their.html
Brussels/New York
With precarious jobs, unemployment and inequalities
rising around the world, the international labour
movement today formally tabled its proposals http://www.ituc-csi.org/rio-20-trade-unions-submit-their.html>
to the secretariat of the  sustainable
development summit in Rio de Janeiro, Brazil in 2012.
"Governments must realise that unless there is a
drastic change in the way the world is governed, there
is no chance that social equity or environmental
protection will be achieved," said ITUC General
Secretary Sharan Burrow. "The trade union movement is
ready to mobilise for a real transformation of
production systems, for them to deliver decent work and
prosperity while protecting natural resources for
future generations".
At the heart of trade union demands are the need for
investment in social protection systems and in green
and decent jobs. Also stressed is the need for
governments to ensure that key principles such as
equity between and within countries, Just Transition,
gender equality and a dramatic reduction in financial
speculation, form the basis of any discussion on the
Green Economy.
"We are concerned at indications that little progress
will be made on climate change at the Durban Conference
Durban this December.  We are determined to push the
multilateral system to protect people and the planet,
and to recognise that trade unions are fundamental to
this.
The trade union demands for Rio+20 are based on the
notion that each measure and decision at Rio+20 must
deliver across all the three dimensions of
sustainability, as spelt out in a preparatory meeting
trade unions held in Madrid, Spainhttp://www.sustainlabour.org/documentos/The%20Madrid%20Dialogue1.pdf>.
The 'Madrid Dialogue' delivered a first
outline of unions priorities for Rio+20 through a
debate with members of the UN Panel on Sustainability
and representatives from civil society.
"The report of the Madrid Dialogue shows the strong
consensus around decent and green jobs, the social
protection floor and the need for fair and
environmentally-sound taxation policies," said Burrow.
"This dialogue gave us real impetus to push for these
proposals in the Rio+20 context."
The ITUC represents 175 million workers in 308
affiliated national organisations from 153 countries
and territories.
Website: http://www.ituc-csi.org and
http://www.youtube.com/ITUCCSI
More...
by Kathleen McCook on Wed, Jun 29, 2011 at 07:40 pm
From The Nation.
Opponents of Ohio Governor John Kasich's push to strip public employees of collective bargaining rights—as part of a national push by newly-elected Republican governors to silence opposition to their cuts in funding for public education and services — needed to collect 231,000 valid signatures to force a referendum that would override anti-labor legislation enacted by Kasich and his allies.
That was a tall order. But the labor and community groups that have come together to defend public employees, teachers, schools and services have exceeded it —by more than one million signatures.
More...
by Kathleen McCook on Sat, Sep 17, 2011 at 08:17 am
Red

in black and white:


The New Left printing renaissance of the 1960s – and beyond

[1]
Essay by Lincoln Cushing in Peace Press Graphics 1967-1987: Art in the Pursuit of Social Change
Catalog for 2011 exhibition at the University Art Museum, California State University, Long Beach
      Exhibition curated by Ilee Kaplan and Carol A. Wells, Center for the Study of Political Graphics
More...
by Emily Drabinski on Fri, Sep 9, 2011 at 06:05 pm
Faculty librarians at Long Island University, Brooklyn, are on strike with the rest of LIUFF. We voted to strike on Tuesday, September 7. The central issues: No raise to base salary for five contract years. Zero percent raise for the first two years with small percentage lump sum raises in the remaining three year, and the linking of faculty salary increases to student tuition revenues--a sinister move that turns faculty members into credit peddlers. Administration is playing hardball--they cancelled our health insurance as of midnight on the first day of the strike. 
Library faculty issues have already been settled, at a great rollback of our research-release time. While we'll now be working up to five additional weeks for the same pay, we managed to negotiate to save release time for faculty librarians during the academic year. 
Follow along with negotiations at http://liuff.org, and on facebook at https://www.facebook.com/pages/Long-Island-University-Faculty-Federation.... I've also compiled addresses of administrators if folks want to send letters of support on behalf of the faculty: https://www.facebook.com/notes/emily-drabinski/wondering-how-you-can-sup...
More...
by Kathleen McCook on Fri, Sep 9, 2011 at 06:54 am
Librarians and archivists at the University of Western Ontario are on strike Thursday morning [September 8, 2011).
Talks between the workers, represented by the University of Western Ontario Faculty Association, and the university broke down Wednesday.
"The two sides remain divided, primarily over monetary issues, although the university has offered to establish a pay equity process," UWO said in a release Wednesday.
More...
by Kathleen McCook on Mon, Sep 5, 2011 at 07:56 am
Happy Labor Day.
Librarians everywhere are union members and protectors of labor history.
=========
New York City Labor History Map
Welcome to the New York City Labor History Map, a joint project between the New York Labor History Association and the Tamiment Library and Robert F. Wagner Labor Archives.  This web-based map builds on previous research published by the New York Labor History Association and enables users to explore, by location or date, key events in the city's labor history. It documents the history of working men and women in New York City and their struggle to gain concessions such as the eight-hour work day, better pay, improved working conditions, decent and affordable housing, collective bargaining rights, healthcare and pension plans.  It also documents important aspects of the city's political and social history, its major protagonists and their contributions to the lives of ordinary people.  The site features images and audio to enliven this facet of New York City history. Unless otherwise noted the photographs, papers and oral histories hightlighted here originate from the collections of the Tamiment Library and Robert F. Wagner Archives.
More...
by Kathleen McCook on Fri, Aug 12, 2011 at 07:10 am
Philip Levine, a former Detroit autoworker and product of Detroit Public Schools, has been named the U.S. Poet Laureate for 2011-12.

 

Last fall Levine's poems "Of Love and Other Disasters," "Arrival and Departure," "The Death of Mayakovsky" and "Library Days" appeared in Detroit poet (and Wayne State professor) M.L. Liebler's anthology, Working Words: Punching the Clock and Kicking out the Jams (Coffee House Press).


"He is America's most-acclaimed working-class poet," Liebler said. "He will bring poetry to the people through his accessible and dimensional poems about the working class, Detroit and post-industrial America. As poet laureate, Phil will make a difference in how Americans see and understand poetry. I welcome this announcement with excitement and enthusiasm for my good friend."
More...
by Kathleen McCook on Thu, Aug 11, 2011 at 09:03 pm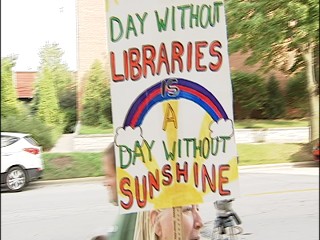 Rockford Public School District 205 students will have access to libraries five days a week thanks to a vote at tonight's board of education meeting. The decision also puts some dismissed workers back on the job.
Under the previous plan, some schools only had access to a library one day a week. The new staffing plan keeps all libraries open, every school day. It's a small victory for paraprofessionals who came out to picket before the meeting.
AFSCME Union Members marched outside District 205 headquarters chanting to keep libraries open and bring back paraprofessionals. The approved library plan puts 5 librarians and 9.5 paraprofessionals back to work.
More...
by Kathleen McCook on Fri, Aug 5, 2011 at 09:04 am
Ten employees at IU libraries are being laid off this week — the latest budgetary issue in a summer of pay raises, tuition increases and financial cutbacks.  [President Michael McRobbie received a 12 percent pay raise, increasing his annual salary to $533,120.]
Seven support staff and three professional staff were told Tuesday and Wednesday their positions are being eliminated....
The timing was met with condemnation from the local chapter of Communication Workers of America, a union that represents 1,700 IU support staff.
"In a time of financial cuts, difficult decisions have to be made," Chapter President Bryce Smedley said. "There's no question about that. But on one hand, we're seeing these huge raises, and on the other hand, we're seeing 10 people getting laid off."
If McRobbie had forgone the larger raise and accepted the same 1.5 pay increase as many IU employees are, the IU president could have then saved some of those jobs, --Smedley said in a prepared statement. 
More...
Pages