Union Library Workers
Community
by Kathleen McCook on Sun, Apr 26, 2009 at 08:42 pm
Each year, thousands of workers are killed and millions more are injured or diseased because of their jobs. The unions of the AFL-CIO remember these workers on April 28, Workers Memorial Day.
The first Workers Memorial Day was observed in 1989. April 28 was chosen because it is the anniversary of the Occupational Safety and Health Administration and the day of a similar remembrance in Canada. Every year, people in hundreds of communities and at worksites recognize workers who have been killed or injured on the job. Trade unionists around the world now mark April 28 as an International Day of Mourning.
More...
by Kathleen McCook on Fri, Apr 24, 2009 at 07:18 am
Please consider supporting the Paycheck Fairness Act by signing onto the Women's Law Center petition AND supporting Equal Pay Day by wearing RED on Tuesday, April 28.
, Paycheck Fairness Act
 
The emphasis for Equal Pay Day next Tuesday is the Paycheck Fairness Act, passed by the House of Representatives on January 9 and awating action in the Senate.
PFA is designed to strengthen and update the Equal Pay Act of 1963 and to require the federal government to be more proactive in preventing and battling wage discrimination. Among other things, PFA also would close a significant loophole in the Equal Pay Act to allow for full compensation for sex-based wage discrimination.   
NCPE will participate in a Congressional hearing on the bill from 2 to 3 pm Thursday, April 30 in Room 430 of the Dirksen Senate Office Building.
I will present the NCPE Winn Newman Award at that time.
On Equal Pay Day Sen. Tom Harkin will reintroduce the Fair Pay Act,
which calls for equal pay for work of equal value.
NCPE member organizations have been active in promoting Equal Pay Day and planning events.  Among them are:
    *  AAUW, with its "Keep the Change Until Women Have Real Change"campaign -
http://www.aauw.org/advocacy/issue_advocacy/actionpages/payequity.cfm -
and recent release of state wage gap information; see attachment.
    *  National Women's Law Center, with its Fair Pay Campaign -
www.nwlc.org/fairpay - and blog at
http://action.nwlc.org/site/PageServer?agename=Blog_for_Fair_Pay.
    *  Coalition for Labor Union Women, urging calls to Senators to
support both PFA and the Employee Free Choice Act; see
http://www.cluw.org/programs-payequity.html
    *  BPW, with Equal Pay Day information at
http://www.bpwusa.org/i4a/pages/index.cfm?pageid=3586
The Center for American Policy Action Fund's program "We're Not There
Yet - Equal Pay Day 2009" will be Monday, April 27 from 10-11:30 am in
Washington DC - see information and invitation at
http://zedc4test.techprogress.org/events/2009/04/equalpay.html/rsvp.
DC NOW is having a Pay Equity and Financial Literacy Conference on
Saturday, April 25; see http://sites.google.com/site/washingtondcnow/
NOW has a national cartoon contest, closing today - see below.
NCPE's Equal Pay Day information at http://www.pay-equity.org/day.html
includes an interactive Activity Response Form at
http://www.pay-equity.org/day-kit-proclamation.html.  Let us know how
you and/or your organization will observe the day.
 On or before Equal Pay Day, please contact your senators, either to urge them to support the bill and become cosponsors, or to thank them for their support.  Call the Senate switchboard at 202-224-3121 or e-mail Senators at :
https://secure2.convio.net/nwlc/site/Advocacy?pagename=homepage&page=Use
rAction&id=335&JServSessionIdr010=gwm4x46ue8.app1b.
Michele Leber, Chair
National Committee on Pay Equity
c/o AFT
555 New Jersey Ave., NW
Washington, DC 20001-2029
Attn: C. Cordovilla
Tel: (703) 920-2010
Fax: (703) 979-6372 Attn: M. Leber
fairpay@pay-equity.org
www.pay-equity.org
More...
by Kathleen McCook on Tue, Apr 21, 2009 at 07:05 am
 In "What if Green Jobs Don't Pay," by 
Brady Yauch in the 4/19/20 Washington Post 
The green jobs initiative gets even stickier when it comes to unions -- a major supporter of the Obama administration and his fellow Democrats. The Good Jobs First report noted that few workers at wind and solar jobs were backed by collective bargaining agreements. And in at least two cases, the company leaders were found to have run aggressive anti-union campaigns, aided by union-busting consultants.
As lawmakers and business leaders across the country battle over the Employee Free Choice Act (which would make it easier to unionize workplaces), that fight is likely to get heated. But as money from the stimulus plans starts to make its way to the coffers of green companies, the importance of the union in the nation's manufacturing heartland will flare up once again.
More...
by Kathleen McCook on Fri, Apr 17, 2009 at 04:47 pm
Julie Ardery writes in Daily Yonder.
Archie Green who taught us "laborlore" and persuaded Congress to establish a national folklife center has died. 
Archie studied library science at University of Illinois (training that shows throughout his immense, impeccable archives, now at the University of North Carolina). At University of Pennsylvania, he earned a folklore degree, writing the dissertation that would become Only a Miner.
He lobbied hard and successfully for the creation of the American Folklife Center at the Library of Congress.In 2007, the Library honored him as a "Living Legend."
More...
by Kathleen McCook on Wed, Apr 15, 2009 at 10:32 pm
Franklin Rosemont, surrealist poet, artist, historian, street speaker, & labor activist, died of an aneurysm on Sunday, April 12th in Chicago, Illinois...Rosemont was a leading figure in the reorganization of America's oldest labor press, the Charles H. Kerr Company....
Elaine Harger, co-founder of the Progressive Librarians Guild, had this to add on the PLG listserv: Franklin and Penelope Rosemont are tied to PLG's story in that they organized PLG's first outing at an ALA conference. They gave us a tour of the Waldheim Cemetary in Chicago, burial place of many leftists. We have a photo of PLGers with the Rosemonts standing in front of the monument erected to the Haymarket Martyrs.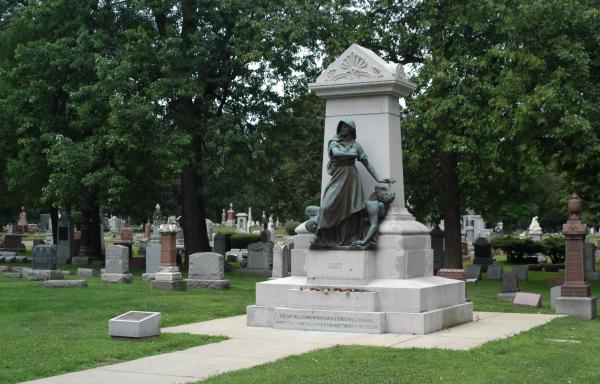 More...
Pages